In April, we received an inquiry from USA customer. He wanted to buy our aluminum case.
Below was the product photo he sent to us, which was from our website.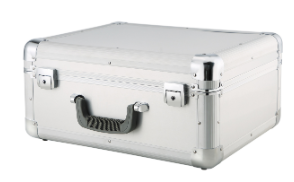 This is our conventional aluminum case, which is mainly made of aluminum frame and Melamine MDF. The surface and inside style can be customized.
After I told him the material, he said actually he wanted all aluminum case and the case must be light tight. Then I recommended him another two as below.



Both of them are made of pure aluminum. But to produce the left one, we need to open mould for different sizes,which is usually applied in briefcase. However, we can make any size the customer want for the right one,which can be applied in many other fields. Our customer chose the right one.
Next step, our customer told us he wanted to make the case a shelf system. He sent us drawing of inside structure,marked the dimensions of each part and position to install each accessory. We discussed how to make the case and what problems we will meet during the process.With the help of our technology team, we solved all the problems. Then we started to make this sample.
After 2 weeks, our sample-making team finished the sample. We took many photos and video for our customer's checking, explained how the case to work. Our customer was satisfied with our work and service.
Final step, we arranged express to deliver the case to specific address.
Now we are waiting for our customer's final confirmation and place larger order.
This customer is very professional and knows what he wants the case to be. At the same time, our development team is professional. Both 2 points lead to final success of sample.