Last year one of our customer from the USA was very interested in our gun cases, Their company had many products like binoculars, microscopes, rifle scopes, gear case, and rifle case, but they did not think his company had a wide range of gun case, they'd like to know more different kinds of gun cases, so we introduced our gun cases to them, More details as below:

1.The various exteriors of gun case can be chosen.
We have some regular gun cases with silver frame and black panel or silver panel, they are our basic model, without MOQ. Wave foam on the top and bottom, Four chrome key locks.

To meet different customers'requests, we made some special colors of plates of gun cases, like the diamond plate and camouflage, see picture. They are very popular in the market. Certainly, if you'd like to custom different colors of the panel, like blue, red, or gray, it is available for us.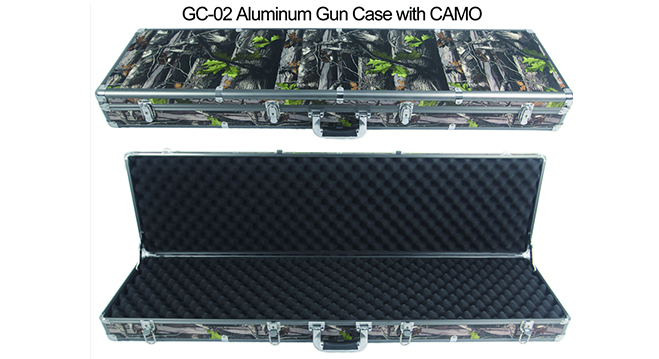 2.Different colors of aluminum frame
Most gun case manufacturers only have silver aluminum cases, In order to increase the variety of our gun cases, we made gun cases with special colors, for example red, blue and gray, etc., of aluminum frame. The high-grade metal texture looks more fashionable, colorful, and luxury. See picture below.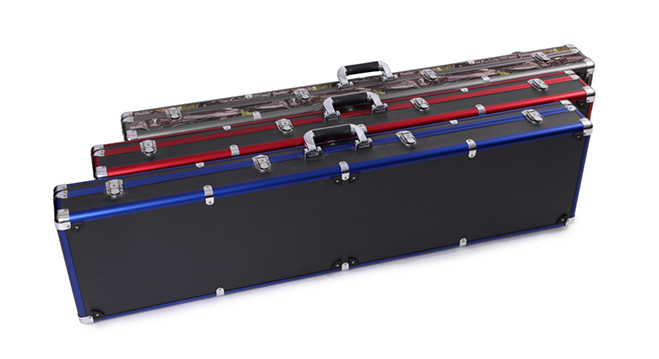 3.Double-sided pistol case
This rifle case is designed to carry up-to two-gun case in its two separate storage compartments.
To keep your rifles protected from internal damage from movement, we use four layers of wave foam. 22mm aluminum frame, four coded locks, and reinforced metal corners.

4. Any Size can be customized.
We are a custom aluminum case manufacturer, we not only customize size as customers'request. If you would like different accessories, inner lining, logo, and so on, All of them can be customized.
Besides, we have some regular sizes of the gun case for choosing if you do not exactly size you need. Like 12inch, 14inch, 18inch,34inch,48inch and 52inch of gun cases.

HQC case is a custom aluminum case manufacturer more than 12 years` experience that providing aluminum tool cases, aluminum carrying cases, aluminum instrument cases, aluminum briefcases, aluminum gun cases, flight cases, and presentation cases for commercial, industrial, and military applications. Our facilities manufacture cases in a variety of materials including plastic, metal, and wood with or without foam interiors.
All products can be customized, Please feel free to contact us if any requests.