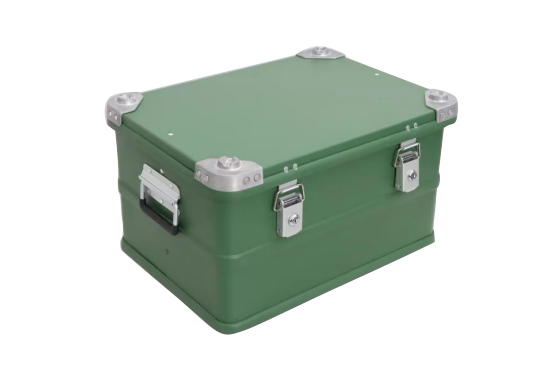 The handles are spring-loaded and will fold down upon release. Their plastic cover ensures a good grip. The two retaining straps prevent damage to the hinges. Both draw-bolt catches have key locks and holes to fit padlocks.
The hardened Aluminium corner pieces on the lid ensure that when boxes are piled one on top of the other, they stack snuggly. The edge of the box has a rubber lip that ensures a tight seal and to avoid eventual damage to the lid upon repeated closing.
The thickness of wall have many different choice to meet different requirements:
0.8MM, 0.1 MM and 0.15 MM.
For inner lining, we could add pre-cut foam. Or other parts as customer requirements. If you need, we could put your inner products into cases before shipping. By this way, it will save too much freight.
For the outside finishing of Aluminum Box, there are: painting, Oxidation, Oil…
An equipment storage box with all the right details.
Metal boxes are always a classic in outdoor activities and overland travel, …and extra tough. Welcome you inquiry. More news, please contact us directly.